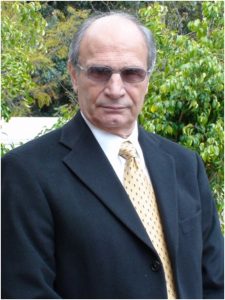 Dr. Gevorkian holds a B.SCE (Honors) in electrical engineering, an M.S. in computer science, and a PhD in electrical engineering. His expertise lies in renewable energy sources such as solar power, fuel cells, and micro-turbine cogeneration. He has designed more than 250 MW of photovoltaic systems for healthcare, aviation, and regional utility companies across the country.Dr. Gevorkian is an active member of the Canadian and California Professional Engineers, California society of Energy Engineers.Dr. Gevorkian is distinguished visiting professor and lecturer in advanced solar photovoltaic and alternative energy power production who has conducted numerous seminars and lectures worldwide. Over his career spanning nearly 40 years, Dr. Gevorkian has received numerous honors and awards and contributed numerous technology innovations in solar power, process control and automation systems.
AIA 2007 Engineering Merit Award for Renewable Energy Systems Engineering Design and Exceptional Contribution to Advancement of Solar Power Co-generation in Building Design
AIA 2007 Design Honor Award for Outstanding Engineering Design for the Metropolitan Water District's Museum of Water & Life
AIA 2008 Honor Award for Outstanding Design Achievement in Solar Power Engineering
AIA 2009 Honor Award for Excellence in Solar Power Design
2010 Nomination by the University of Waterloo Faculty of Engineering for the Medal of Honor for Engineering Achievement
2012 and 2014 Was listed by the Cambridge University Press roster of Top Scientists and Engineering Authors
Dr. Gevorkian has taught computer science, automation control, and renewable energy systems engineering. He has published many technical papers for national and international symposiums and has authored several technical books on renewable energy systems design. He has received numerous international acclaims as best author and some of his books have been translated into Chinese and are being used as textbooks in the U.S. and abroad. His books, published by McGraw-Hill, include:
Sustainable Energy Systems In Architectural Design – (McGraw-Hill)
Sustainable Energy System Engineering –(McGraw-Hill)The Complete Design Resource
Solar Power Systems In Building Design –(McGraw-Hill)
Alternative Energy Systems in Building Design – (McGraw-Hill)
Large Scale Solar Photovoltaic System Design – (McGraw-Hill)
Large Scale solar Power system construction and Economics – (Cambridge University Press)
solar Power Generation Problems, Solutions, & Monitoring – (Cambridge University Press)
Grid Connected Solar Photovoltaic Power Engineering – Economics, and Risk Management (pending publication by the Cambridge University Press)
Dr. Gevorkian currently holds a patent for Intelligent Solar Power Reader (WISPR), a high precision solar power energy management and life safety control system, a patent for a solar power system prognostication and econometric analytical software system, and multiple patents in digital tachometry.
Dr. Gevorkian is also President of his own company, Vector Delta Design Group, an electrical engineering and solar power consulting organization located in La Canada Flintridge, California that specializes in industrial, commercial, and residential projects.
https://aesa.org/wp-content/uploads/2016/07/111.png
0
0
Administrator
https://aesa.org/wp-content/uploads/2016/07/111.png
Administrator
2016-09-19 21:21:40
2016-09-19 21:21:40
VIDEO: Dr. Peter Gevorkian, PhD EE, PE